BOOKMARK

- in Partnership with local Schools

BOOKMARK Fringe in partnership with Blairgowrie High School

BOOKMARK was delighted to support Blairgowrie High School in running its own Fringe Festival alongside the main BOOKMARK Festival in 2019. It took place from Monday 30 September to Thursday 3 October with all events being held in the High School. The week of events kicked off on the Monday with two evening workshops for parents and guardians – one on reading engagement, and the other on dyslexia awareness. During the week there was various literary and literacy events including: a spelling bee competition for all S2 pupils: a no pens day, and a pop-up shop selling 'previous loved' books. On Thursday 3 October, S1 to S3 pupils attended sessions run by Metaphrog and Jonathan Meres. Metaphrog are Franco-Scottish graphic novel duo John Chalmers and Sandra Marrs, winners of The Sunday Herald Scottish Culture Awards for Best Visual Artist 2016. They have received international acclaim not only for their graphic novels but for their work with schools and festivals. Jonathan Meres is an author, actor and stand-up comedian. He is the author of The World of Norm series and is very keen "to dispel the myth that anything to do with books, writing, writers and authors is booooooring!"
In March 2018 BOOKMARK applied for funding from Eastern Perthshire Decides to raise money to support the English Department at Blairgowrie High School to run a Literary/Literacy Event on 5 October, just prior to the Main Festival opening. The project was to engender an interest and respect for reading in all young people in the community. As well as High School pupils the aim was to involve the Primary 7 pupils in the High School catchment area. Moreover, by also involving parents/responsible adults it was hoped to encourage and promote a more positive learning environment in the home. A variety of authors, illustrators, media specialist, mountaineer and political cartoonist were invited and a number of workshops including creative writing, were available as well as a workshop from DC Thomson. 820 pupils and approximately 100 adults (staff, parents and BOOKMARK volunteers) attended the event.
Staff enjoyed getting an opportunity to work with a whole range of pupils in some of the workshop activities and felt that the range of authors and presenters was good. The Literacy School Improvement Group saw it as a good way to reinforce the vital message that reading skills will help in every aspect of a pupil's education. Ash Dickinson, a performance poet who performed to S1 pupils enjoyed the pupils' enthusiasm and was impressed by the poems the pupils produced in the lead up to the event. He said he would be very happy to come back and visit Blairgowrie High School anytime. The event was publicised on Blairgowrie High School website, twitter pages and in the main BOOKMARK programme. It was also available on the Discover Blairgowrie website. Both the Blairgowrie Advertiser and The Courier ran stories about the event.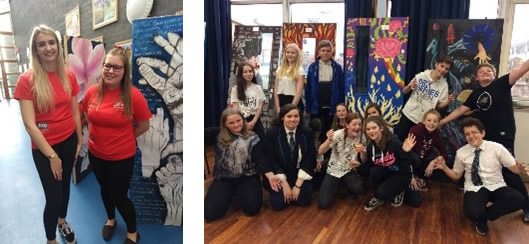 Apart from the Fringe and BOOKMARK's involvement with the English Department, BOOKMARK also works in partnership with the Art Department of the High School. Since BOOKMARK's inauguration in 2013, Blairgowrie Art Department and its students have decorated the Festival venue with the most amazing artistic pieces Each year there is a different theme, and the standard is incredible.
In 2015 and 2017, BOOKMARK collaborated with Perth & Kinross Council Social Work Department and local children's author, David Macphail to work with primary aged children who attended No 5 Davie Park to encourage them to re-engage with reading and writing. They met over a period of 4/6 weeks and produced two booklets entitled Aliens at No 5 and Vikings at No 5. BOOKMARK held celebratory events which included the children, their families, staff from No 5 Davie Park, David Macphail and members of Perth & Kinross Community Planning team. These projects were funded by The Rotary Club of Blairgowrie (with match funding from Castle Water) and Perthshire Decides Participatory Budgeting Scheme respectively. These events showcase the importance placed by BOOKMARK in engaging with school children.
BOOKMARK in the Glens.
In 2015, Joan Lennon, who was BOOKMARK's writer in residence, with a grant from SSE Drumderg Community Fund, led two sessions in creating poetry for Primary 5/6 pupils in Kirkmichael, the children writing their own haikus and shape poems and for younger pupils in P3/4, Sylvia Troon organised a very successful puppet making workshops. Joan also ran workshops for pupils in the English Department of the High School.