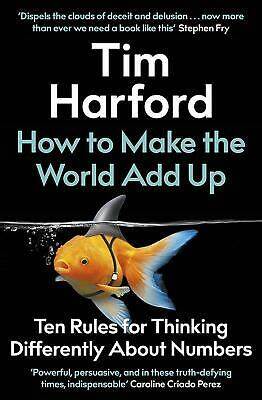 How to Make the World Add Up: Ten Rules for Thinking Differently About Numbers

by Tim Harford. (The Bridge Street Press, 2020)

And figures – How to Make the World Add Up: ten rules for thinking differently about numbers by Tim Harford. Numbers look so certain and irrefutable – don't they? This book had me hooked from the first page of the introduction when Tim writes: "You know the old story about storks delivering babies? It's true. I can prove it with statistics." This highly readable book looks at how figures and statistics can be manipulated and presented in ways that mislead and hide the truth. Fortunately, it also gives us some ways of avoiding the traps, helping us to make better sense of the world around us. Powerful, illuminating and wise.